Your current location:
Retired Dorset Police Office honoured with MBE
Retired Dorset Police Office honoured with MBE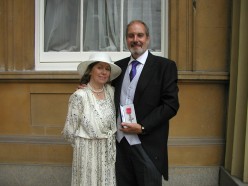 Tony Nott with his wife Judith holding his MBE at Buckingham Palace
A retired Dorset Police officer was yesterday - Wednesday, 9 June 2010 - awarded a MBE for services to international policing.

Tony Nott, from Wareham, received the honour from Her Majesty the Queen at Buckingham Palace.

Tony received the award for the international police work he carried out in Iraq and Palestine.

After receiving his MBE from Her Majesty the Queen, Tony Nott said: "Not only am I extremely proud to receive this honour, but I am also delighted for my family, especially my wife who has had to endure nearly six years of loneliness."

After transferring from the Metropolitan Police to Dorset Police in 1976, Tony worked as a uniformed officer in Weymouth and as a detective in Portland.

Tony went on to serve as a Detective Chief Inspector in Bournemouth and a Detective Superintendent at Force Headquarters in Winfrith.

While serving as a Detective Superintendent, Tony led the British forensic team in Kosovo in 2000, where he was involved in the exhumation and investigation of war crimes.

Between October 2001 and January 2004 Tony worked for the United Nations as a Regional Police Commander in Northern Bosnia, as well as working for a year as the senior advisor to the European Union Police Commissioner on Major and Organised Crime for the EU Police Mission in Bosnia.

During this time, Tony worked with local police in Bosnia as well as with military officers from SFOR - the NATO Stabilisation Force. He was involved in the arrest and investigation of a man who had trafficked over 200 women, resulting in the offender being sentenced to eight years imprisonment.

Between May 2005 and May 2006 Tony was based in the Ministry of Interior in Baghdad while he served as the Deputy Chief Police Advisor to the British Policing Mission in Iraq.

In this role, Tony worked within a US and UK military team facilitating the Iraqi Police in their organisational restructuring. He also provided assistance to the Iraqi Police in their arrest and interview of suspects involved in the high profile kidnap and murder of Irish aid worker Margaret Hassan.

Between February 2007 and December 2008 Tony was based at the US Consulate in Jerusalem where he served as the Civilian Police Advisor to Lieutenant General Keith Dayton of the US Army - the US Security Co-ordinator. This team is a joint US, UK and Canadian military and civilian effort to professionalise, train and equip the Palestinian security services.

Tony said: "This included training the Palestinians in human rights and the use of minimum force, with the overall aim of providing peace through security.

"I was also heavily involved in working with the courts and prisons, so that the Palestinian authority forces would support the Palestinian civilian police in delivering security to the Palestinian people through the rule of law, which in turn would also safeguard their Israeli neighbours. This, in turn, should lead to a draw down of Israeli defence forces in the West Bank.

"I am very privileged to have worked with some very talented and dedicated people, and have great satisfaction in being able to play a small part in the very important peace process in the Middle East.

"To this end I have been able to use the training and experience I had with Dorset Police to the greater good."