Your current location:
PC Martin Roddy Retires After 30 Years Service
PC Martin Roddy Retires After 30 Years Service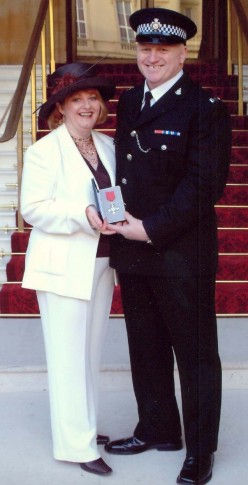 A popular PC is due to retire on Friday May 28, after 30 years with the county's police service.

PC Martin Roddy joined Gloucestershire Constabulary in 1980 having begun his working life as a labourer, a salesman and a teacher of history and physical education at schools in London and in Kent.

Having started his policing career in Stroud he has become a well known face around both the Constabulary and the county, having worked in several different stations including Stonehouse, Kings Stanley, Cheltenham, Gloucester, Charlton Kings, and Tewkesbury and in the Royal Protection Unit at both Highgrove and Gatcombe.

In 2002 Martin took on the role as staff officer to the then Chief Constable, Dr Timothy Brain, who himself retired at the end of 2009.

Discussing his career, Martin said; "My decision to join the police service was probably the best decision I have ever made. Policing has and always will be about people and I have had the privilege of serving with and meeting many wonderful people.

"There have been many highlights for me but perhaps surprisingly most of these would seem fairly minor to most people. However, they are all associated with wonderful people who have provided advice and support to me during my 30 years."

In 2000 Martin was honoured by HRH the Prince of Wales for his community charity work and he was both overwhelmed and honoured to be awarded an MBE in the Queen's Birthday Honours List in 2003 for his services to the police.

In his retirement Martin will get more involved with one of his passions, rugby, and will be coaching rugby league. He's also hoping to watch more of his other passion, which he doesn't think his colleagues will believe - ballet.

Martin added; "I'd like to take this opportunity to thank all of those people that have supported me throughout my career, especially Phil Sullivan, Jerry Foster Turner, Kim Carter and Dave Richards. However, it would be remiss of me not to thank the former Chief Constable Dr Timothy Brain and his wife Elisabeth who have provided constant support to me for which I will be eternally grateful.

"I am also pleased to say that my son Mike has followed in my footsteps and joined Thames Valley Police, and I couldn't be more proud of him.

"I can't thank my beautiful wife enough for putting up with the long and unsociable hours and the stresses and strains of being a police officers wife. Tess is the best thing that has ever happened to me and I couldn't have achieved what I have without her love and support."