Your current location:
Lancashire's Assistant Chief Constable set to retire
Lancashire's Assistant Chief Constable set to retire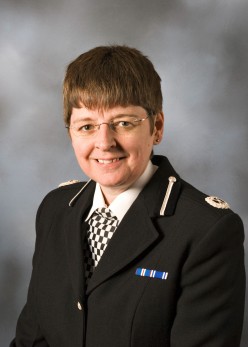 LANCASHIRE Constabulary's highest ranking female police officer is about to retire after 30 years with the force.

Assistant Chief Constable Wendy Walker, 51, from Whalley, joined the Constabulary on 1 September 1981 starting her policing career on foot patrol in Blackpool. She has since worked in various roles across the county spending time in Preston before joining Blackburn where she worked as divisional Chief Inspector and later Superintendent.

At the start of 2003 Wendy took command of the Constabulary's Northern Division. During this time she led the division through one of Lancashire's most tragic incidents - the deaths of 23 Chinese cockle pickers in Morecambe Bay.

This role was followed by a secondment to Her Majesty's Inspectorate of Constabulary in 2005. More recently, she has held the role of Assistant Chief Constable with responsibility for training and development, community cohesion and diversity, human resources and leadership. She is also a trained hostage negotiator.

Before joining Lancashire Constabulary, Wendy obtained a degree in Bachelor of Education and has since achieved a Master of Arts in Organisational Management at Manchester University. In 2009, she was awarded the Queen's Police Medal for services to policing and communities and in 2010 Wendy was made an Honorary Fellow of the University of Central Lancashire.

Speaking about her impending retirement Wendy said: "I've been extremely fortunate to have worked for such a fantastic organisation with some hard working and dedicated people who I will surely miss."

Chief Constable Steve Finnigan added: "Throughout her service, Wendy's hard work and commitment has made an outstanding contribution to improving the communities of Lancashire and our ambition of consistently being the best police force in the country.

"Wendy is highly respected and well liked across the force and beyond and I'm sure that everyone who has known or worked with Wendy will be sad to see her leave. She can be rightly proud of all she has achieved and assured that she has contributed greatly to policing in Lancashire and further afield.

"I would like to thank Wendy for everything she has done for the Constabulary over the last 30 years and I wish her a very long and happy retirement."

Assistant Chief Constable Peter White will replace Wendy when she retires on Friday 26 August.