Your current location:
'Coppers-cop' retires after 30 years
'Coppers-cop' retires after 30 years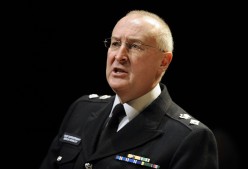 Police Chief Kevin Hurley at the Neighbourhood Watch AGM in Hammersmith
Known for his hard-hitting, zero-tolerance stance Mr Hurley has been Borough Commander for two years. Despite his other duties he has an arrest rate comparable to most patrolling officers and carries his handcuffs with him when on duty.

His robust approach to crime-fighting was catapulted to national prominence when fast-paced TV documentary Brit cops zero-tolerance filmed the borough's crime-fighters in action.

Mr Hurley said: "The public own the streets - not the drug-dealers or anti-social yobs."

In his time in the borough Mr Hurley has seen year-on-year falls in crime despite the opening of Europe's largest inner city shopping centre in Shepherds Bush.

Cllr Greg Smith said: "Kevin Hurley has been a fantastic Borough Commander who has worked side-by-side with the council to drive down crime in our borough. He is the copper's-cop and he will be a hard act to follow. We wish him all the best for the future."

A new Borough Commander is expected to be in place by the end of the month.