Your current location:
Commendation For Retired World Cup Police Officer
Commendation For Retired World Cup Police Officer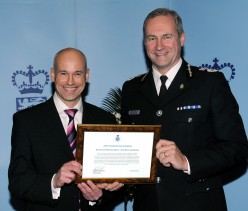 A retired Shropshire police officer has received a top award for his work supporting UK Football Policing Unit operations, including duties at two World Cups.

Former Detective Constable Alan Roberts, who retired earlier this year after 30 years service with West Mercia Police, was last night (Dec 14) awarded an Association of Chief Police Officers (ACPO) Presidential Commendation.

Mr Roberts, who was football intelligence officer for West Mercia's Shropshire Division for 10 years up to his retirement, attended an awards ceremony at Force headquarters Hindlip Hall to receive the commendation from Chief Constable Paul West on behalf of ACPO president Sir Hugh Orde.

He was among six uniformed officers selected by the UK Football Policing unit to assist with policing for England's matches during the World Cup in South Africa in June.

An official England "spotter" for seven years, Mr Roberts said he was honoured to have been selected. His role was two-fold - to gather information on people involved in disorder and to mingle with English fans, providing assistance and helping ensure they kept out of trouble.

Mr Roberts also fulfilled similar duties at the Euro 2004 Championships in Portugal and at the World Cup in Germany two years later.

He was nominated for the ACPO Presidential commendation by the Acting Chief Constable of South Yorkshire Police Andy Holt, who led the British policing team in South Africa.

Sir Hugh said he was delighted to award Mr Roberts a Presidential commendation.

The citation said it was in recognition of his contribution over many years in reducing disorder associated with England football supporters attending overseas tournaments.

"The introduction of football banning orders - under-pinned by intelligence gathering operations and support to foreign police forces - has significantly reduced disorder among England supporters and consequently protected our national reputation.

"Over an extended period, retired Detective Constable Roberts played a significant role in policing England fans abroad, which culminated in the World Cup in South Africa where no England fan was arrested for any disorder-related incident."