Your current location:
Assistant Chief Constable to retire
Assistant Chief Constable to retire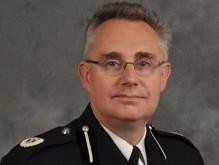 Ian Ackerley, Assistant Chief Constable with Nottinghamshire Police.


Ian Ackerley, Assistant Chief Constable with Nottinghamshire Police, is to retire in the New Year having completed more than 30 years' service.

Mr Ackerley, who currently has specific responsibility for strategic change, joined Nottinghamshire in September 2006 having spent his entire policing career to that point with Staffordshire Police.
During his time in Nottinghamshire Police, he has been at the forefront of Policing For You, Citizen Focus improvements and Demand Management. He has been the Gold Commander in charge of numerous challenging incidents and issues including the EDL march and has ensured business continuity through many disputes. His work with partners and stakeholders has proved invaluable to the Force's shared services agenda.

More recently, he has led a major transformation project to re-engineer how the force delivers policing services to enhance performance against a backdrop of decreasing budgets.
He said: "Although the last five years have been extremely challenging ones, they have also been very rewarding ones.
"I leave the force at a time when our crime rates are falling, satisfaction is rising, and the programme to restructure and re-energise the force is well underway.

"Policing is quite unlike any other discipline, in its challenge and complexity. It is also a profoundly interesting and fulfilling area of public service, and I have been fortunate to have worked alongside thousands of truly committed and dedicated people in the last 30 years."

Chief Constable Julia Hodson said: "It has been a pleasure to have worked with Ian in the last few years. He is a consummate professional whose integrity, dedication and professionalism is unequalled. His contribution to public safety in Nottingham and Nottinghamshire cannot be overestimated and I publicly thank him for his loyal and unstinting service to our communities."