Your current location:
French advice
French advice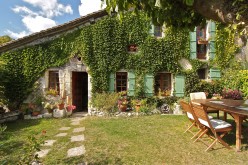 Priced €118,800, this 3 bed cottage with a south facing garden in the Dordogne is ideal as a holiday cottage or permanent residence. Just 5 minutes from St.Severin, a thriving village with shops and general amenities. Golf & country club just 15 mins

Leggett Immobilier is seeing a big rise in interest from retirees looking to combine a dream home and lifestyle with a secure home for their savings. They are the leading international estate agency in France and saw sales rise by almost 30% last year. Chief Executive, Trevor Leggett, has been established in France for over two decades now and has this advice:
"France plays host to more tourists than any other country in the world for a variety of wonderful reasons and we regularly top the polls for offering the highest quality of life. In troubled times owners and investors seek "safe havens" and they simply don't come more secure or enjoyable than a home in France.

Of course, the Alpes Maritimes are the first place to think of if retiring to the South of France. Nice and Cannes are perennial favourites and property in this prime location is always popular with international buyers. It comes at a price though and the average price of a house in this department is €437,600. If you want to be in the south and are looking for more bang for your bucks then try looking inland in the Var (€328,000) or even the Vaucluse (€220,000). There are plenty of bargains to be had.

If you like the idea of enjoying your retirement in the sunshine but like the idea of "authentic" France then take a look at the Charente Maritime, Charente or the Dordogne. They benefit from a micro climate and the warm westerly gulf stream winds. The area inland from La Rochelle is the second sunniest part of France and prices are still amongst the lowest in SW France. The average house price in Charente is just €110,000 and a family house with pool and views over the vines can be had for between €250-350,000.
Similarly the Dordogne offers much more than you may have seen on the TV programmes. It is a large department with varied landscapes and is dominated by one of France's most beautiful rivers. The average price here is €127,200 although expect to pay more in some of the areas populated with expats.

Finally if you want to buy a house in France but need ease of access then think about the Ille et Vilaine in Brittany and the area around St Malo. This department has an average price of €180,000 and is seen as the prime location of this wonderful department.
There are so many areas that I haven't mentioned - the beautiful beaches of Normandy and the increasingly popular Langudeoc Roussillon spring to mind. Your best starting point is to visit our website, www.frenchestateagents.com, where you will find over 7,200 dream homes in France as well as being assured of advice from trustworthy & bi-lingual estate agents".