Your current location:
Franchise opportunity with Magicman
Franchise opportunity with Magicman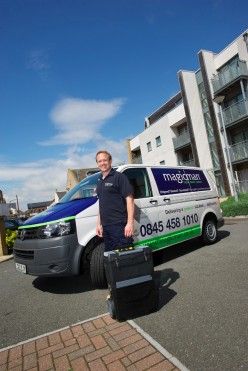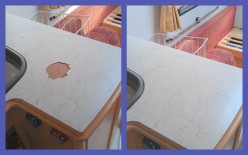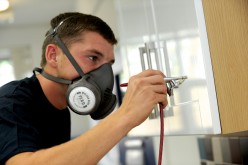 It's a kind of Magic!
The UK's leading hard surface repair company, Magicman, is now offering franchise opportunities to enable it to meet the growing demand for in-situ repair of damaged fixtures, fitting and furniture.
Magicman has developed a range of innovative techniques for repairing damage such as scratches, dents and chips to all types of surface – wood, metal, uPVC, ceramic, stone, laminate, marble and even glass. The standard of finish makes the repair virtually impossible to detect. It's as if the damage has disappeared, just like magic!
A compelling business opportunity – innovative technology, substantial demand.
Owning a Magicman franchise involves using state-of-the-art technology to provide a range of specialist services, to both residential and commercial customers.
The market is vast, comprising all property owners – householders, hotels, builders, insurance companies, landlords, facilities managers. It also includes delivery companies, cruise lines, caravan and motorhome owners, and for other service providers such as removal companies, tradesmen, kitchen & bathroom fitters.
Magicman's ability to repair damaged surface or fitting on-site is compelling when compared to the cost and inconvenience of replacement. Companies and householders are under increasing pressure to reduce costs and so demand for the cost efficient repair and re-surfacing solutions provided by Magicman is inevitably growing.
Furthermore, environmental benefits are offered due to the avoidance of waste arising from disposal of replaced items.
The unique MagicMan repair technology presents franchisees with a distinct competitive advantage and with market demand growing the potential to build a thriving and profitable service business is considerable.
Strong pedigree and reputation
The business is fully accredited and has been around for over 20 years, with a very strong presence in the construction and utilities markets. Its move into franchising is a reaction to the considerable demand that is building for 'on site' repair solutions. Clive Smith, Managing Director of Magicman Global Licensing, says the launch of the Magicman franchise is well timed. "Property owners and managers are becoming very aware of the costs, inconvenience and environmental impact of replacing damaged fixtures and fittings. The size of the market and the potential it offers is huge, particularly the private residential, hospitality and insurance sectors, and we believe this provides an ideal platform for franchisees to develop a great service business".
A Magicman franchise is an owner-operator business. Working from home with a fully equipped and stocked van, franchisees are trained to apply the range innovative surface repair techniques and in all administrative and marketing aspects of the business. No specialist skills are necessary, as Clive explained "Being practical with an eye for detail and some creative talent are useful attributes otherwise the business simply requires the usual ingredient of determination and self-motivation to build a profitable business, with help from Magicman. "
On-going support available
To help with running and developing the business franchisees are provided with on-going marketing support. Magicman also handles job bookings on behalf of franchisees and makes available work from its established portfolio of key account customers. These include national builders, utilities, insurers and facilities management companies.
The initial investment is £24,500. The franchise agreement has a 5 year term , with a right of renewal for a further term and potential earnings from the business can exceed £50k per annum.
Magicman runs Discovery Days on a regular basis at its headquarters in Brighton. If you're interested in learning about the Magicman franchise then you can contact Clive on 01273 426525 or email him: clive.smith@magicman.co.uk
More information is available on the Company's web site www.magicmanfranchise.co.uk