Your current location:
Pension windfall likely to boost overseas property market
Pension windfall likely to boost overseas property market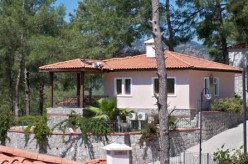 Charming detached four bedroom villa in Gocek overlooking the marina. Situated on highly desirable, fully serviced residental complex. Five minutes from Gocek marina. 20 minutes\' from Dalaman International Airport. Approx. £179,950 (Ref 2179344)
With George Osborn's new policy on pension funds coming into operation in 2015, there will soon be a great number of retirees receiving bumper cash remuneration packages and a great deal of interest in using this capital is likely to be centred on homes.
"We anticipate an upsurge of interest in the property market this year, which is already high for UK buyers in Turkey ", says Suleyman Akbay, MD at Oceanwide Properties. "Properties in the beautiful seafront resorts appeals to many and because we are not part of the euro zone, the pound is worth more against the Turkish lira. The cost of living is generally lower than in other countries in Europe, so there is much to appeal to a buyer".
TurkStat (Turkish Statistical Agency) recorded foreign house sales with a rise of 66% in the first 10 months of 2014 reaching 15,417 with foreign demand remaining strong.
The agency also recorded that over 30 million visitors graced Turkish shores generating a colossal $26.6 billion. Based on 2014, the number of those visiting Turkey, and in turn, looking to secure a new Turkish property, should increase in 2015.
Continued Suleyman: "Whilst investors tend to seek out property in Istanbul where there are major projects in the pipeline, those seeking a new lifestyle, 2nd home or holiday let tend to gravitate to the miles of unspoilt beaches and hinterland."
This amazing country has miles of staggeringly, unspoilt, beautiful coastline along the Aegean and Mediterranean Seas dotted with pretty fishing villages, marinas and welcoming resorts. It attracts many British holidaymakers seeking a wonderful destination and fabulous weather. Many come by cruise liner whilst others seek to fly into their choice of international airports.
The cost of living is good and far cheaper than neighbouring countries such as Cyprus. Ideal for retirees or semi-retired, heathcare and property taxes are low and a council tax of around £35 pa with low utility bills, makes it a perfect location to consider an investment. The winters are much warmer than the UK, especially around the Southern coastal areas and the summer offers stunning days of unbroken sunshine.
Areas particularly popular with the British include Fethiye and Kalkan. The former being a vibrant town which is active throughout the year and where due to increasing popularity, homes are being built which are larger and suitable for year round living. Kalkan also has luxury homes, many with wonderful sea views as the properties perch in elevated positions in the hillsides.
INCOME FROM INVESTMENT
For those considering income from investment an average two bedroom property would secure an income of around £350 per week in the high season in Calios or Fethiye. A four bedroom detached property would generate an income of around £900 per week in the high season. Many properties come fully furnished, making this type of investment very easy to initiate.
Concluded Suleyman: "The association of Turkish Travel Agencies predicted back in October that Turkey was well on the way to exceed its $36 billion tourism target based on new record levels of revenue achieved during the first 9 months of 2014. "
For further news and information on property in Turkey, sign up to receive Oceanwide Properties' regular newsletters and blog posts directly to your email. Log onto www.oceanwideproperties.co.uk