Your current location:
Eat Like Our National Heroes! Here Comes the APP Featuring our Heroes Favourite Dishes with Recipes by Chef Michael Caines
Eat Like Our National Heroes! Here Comes the APP Featuring our Heroes Favourite Dishes with Recipes by Chef Michael Caines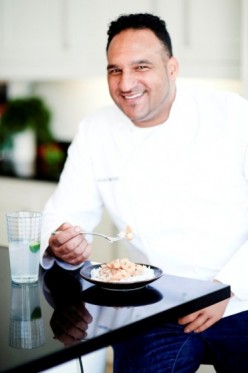 London, JUNE 18th – If you've ever found yourself wishing that you could eat like one of the UK's national heroes, then here is the app for you!
Uniform Foodies features all of the best loved dishes as chosen by the nation's police officers, nurses, doctors, fire fighters and armed forces… and it seems an army really does march on its stomach!
A national survey* commissioned by UniformDating.com, the UK's top dating site for uniformed singles, found that Indian curries, fish and chips and soups were universally loved by our uniformed professionals, whereas the British classics of gammon and chips and a full English breakfast were less popular with not a single vote!
Uniform Foodies provides access to 15 mouth-watering recipes, featuring a diverse mix of some of the UK's most loved dishes developed by the two Michelin starred chef Michael Caines, MBE. From the nation's favourites of fish and chips and curry to modern salads and hearty soups, there is something to suit every taste!
Michael Caines said "The men and women who work in British uniformed professions give us so much on a daily basis; I felt it was important to offer something back. I have taken their favourite foods and created some healthy, homely and affordable recipes tailor made for them and the public to enjoy at work and at home".
Uniform Foodies not only allows consumers to access Michael Caines exclusive recipes, the app also has many useful recipe features including:
Access to user generated recipes and the ability to upload your own favourite recipes
Recipe search function by uniformed profession
Step-by-step cooking guide
So if you want to cook up a storm for your other half or impress on a date, why not wow them with a tasty, easy-to-make show stopper fit for our nation's heroes, and get some passion back in to our kitchens!
Amy Coles, Uniform Dating's Brand Manager said "Uniform Dating understands the important work that those in Uniform do each day, serving the UK in fire stations, hospitals, abroad and on our streets. That's why providing exciting, tasty and easy-to make recipes for them to enjoy whilst at work and at home was so important to us, because everyone deserves good food."
The App is available on iOS
For more information and to download the app, click here.
*All figures, unless otherwise stated, are from YouGov Plc. Total sample size was 43 Fire-fighters, 95 members of the armed forces, 116 doctors, 169 police officers and 111 nurses. Fieldwork was undertaken between17th January - 3rd March 2014. The survey was carried out online.
Michael Caines
To develop these favourite dishes of curry, fish and chips and stew into quick, healthy alternatives suitable to eat at lunch, Uniform Dating brought in the expertly skilled chef Michael Caines to design these recipes. Michael Caines is one of Britain's most acclaimed chefs. AA Chef's Chef of the Year in 2007, and awarded an MBE in 2006 for services to the hospitality industry, Michael is the Food and Beverage Director of Brownsword Hotels. He is also Executive Chef at Gidleigh Park, the acclaimed two Michelin star country house hotel which was voted the number one restaurant by Sunday Times Food List in 2013. In 2000, he founded Michael Caines Restaurants and took over food and beverage operations at The Royal Clarence, Exeter, Britain's first hotel. Amongst numerous other accolades, Michael has cooked in 10 Downing Street for the Prime Minister.
Uniform Dating
UniformDating.com

is the UK's top dating site for uniformed singles and one of the most well-known dating brands in the UK. UniformDating.com is passionate about providing a unique and tailored dating platform for those in uniform, and those who are attracted to the personality traits of those in Uniform (loyal, hard-working and empathetic). Designed for those in uniform to find others who share their core values and sometimes difficult shift patterns, UniformDating.com offers a safe and informal environment to meet new singles from your local area, make friends, go on a date and enjoy good company.