Self-Employed Investigators
Self-Employed Investigators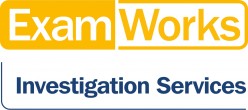 Date Posted: 13 Jun 2016
Location: UK
Details:
Examworks Investigation Services are a leading provider of investigative services in the insurance and legal sectors.
We are currently recruiting for self-employed investigators with experience of obtaining CPR Compliant statements and locus reports primarily for Road Traffic Accidents and Motor Theft claims for Insurance and legal clients.
The company arranges for a field investigator to visit a customer in their own home or conduct a telephone interview. We will also obtain locus reports, scarring and defect photographic evidence. We also offer a Track and Trace Service to locate targets for our clients.
A proven ability in this field is would be advantageous but not necessary.
We are interested to hear from individuals who are capable of working in an efficient and organised manner, whilst adhering to strict service levels.
Investigators:
Investigator positions are on a self-employed, pay per task basis, giving you the control and flexibility of working hours. You must have your own transport and be willing to be flexible, traveling within an approximate 30-mile radius of your home to attend pre-arranged appointments with individuals who may be claimants, defendants, vehicle owners and witnesses both professional and civilian.
Ideal candidates will possess:
• Good GCSE grades, or equivalent, including English.
• Excellent verbal and written communication skills.
• Good IT literacy skills.
• Excellent organisational skills.
• You may be required to work towards SIA Licensing accreditation (depending on Government reforms)
• Previous experience in the insurance/ fraud arena would be advantageous.
To succeed in this role you will be expected to:
• Complete CPR compliant statements, obtain digital photographic evidence and perform Track & Trace tasks.
• Obtain copy ID and Insurance policy documentation.
• Return completed documentation within 24 hours of the appointment time in an orderly and tidy fashion.
• Work in an organised and disciplined way.
• Be DPA aware and compliant
• Health and safety aware
• Demonstrate attention to detail
Please forward your up to date CV, copy of any relevant qualification certificates you may have earned and details of 2 references for consideration to insightfieldforce@examworks-is.co.uk Please ensure you have your contact number and / or email on your CV.